Kauai Vow Renewals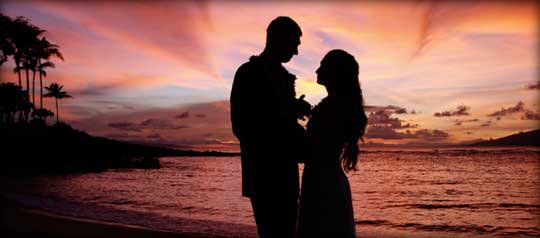 Renew your wedding vows with your loved one in a tropical paradise! Couples have found the spiritual nature of Kauai to be the perfect setting for renewing their wedding vows. I'll help you to discover the perfect romantic beach or garden setting and assist in creating a ceremony that fits your dreams. Whether you enjoy simplicity or extravagance, the possibilities are endless for you to create a ceremony that will showcase your love for one another!
"I spoke to you and your voice and your aloha just came through on the phone. You sounded so wonderful and peaceful and just so grand… I knew our renewal done with you would be awesome. There are not enough words to say thank you! Our ceremony was beyond what I expected! It was beautiful beyond words…. Thank you Tory for making our 25th anniversary renewal so awesome! You will always have a special place in our hearts!"

Hugs to you from
Hirschy and Jo
Recently I've been honored to assist with many Surprise Vow Renewals. This is a very romantic way to enhance your Kauai vacation experience. Contact me, and we can talk about options for your own Surprise Vow Renewal!
Pricing Information
A basic Kauai vow renewal starts at just $245 and includes: ceremony coaching, officiant for the ceremony, and framable keepsake vow renewal certificate.
Optional services include: photographer, videographer, flowers, leis, music, boat rides, or whatever your heart desires. Contact me today and start making your dreams come true!
Kauai Vow Renewal Locations
I can officiate your Kauai vow renewal anywhere on the island—from the lush and tropical North Shore, to the warm and peaceful West Side. If you don't already have a specific location in mind, I'm happy to talk to you about your options and help you find the perfect fit—just give me a call at (808)635-4512, or send me an email.
The Hawaii State Department of Land and Natural Resources (DLNR) requires a permit for beach ceremony. The fee is $60, and I'll handle all of the paperwork for you.
Popular Kauai vow renewal locations:
Client Reviews
My wife and I recently visited Kauai to celebrate our 25th wedding anniversary. As a special occasion, I wanted to surprise my wife by renewing our wedding vows. I pictured a renewal on the beach with maybe a little Hawaiian flare and tradition. A couple of months before our trip, I found Tory O'Malley, locally in Kauai. With one phone call, she arranged the perfect renewal on the beach for us, outside our hotel. Tory, a non-denominational minister, fully arranged a simple and intimate ceremony for my wife and me, providing everything I was hoping for. From the rose pedal heart in the sand, to the Hawaiian wedding traditions, to the ceremonial lays and the special Hawaiian prayers, Tory made our vow renewal very special. If you are planning a special marriage renewal in Kauai, I would look no further than Tory O'Malley, Custom Kauai Weddings, to assist you.
— Tim Burton